Updated: Oct 25, 2022
Augmented reality and virtual reality technologies are the pioneers of the high-tech revolution in almost all sectors of society. Less than a decade ago, these technologies that looked like pure science fiction are pretty domestic nowadays. The global Virtual and Augmented Reality market size is projected to reach USD 37830 million by 2026, from USD 24700 million in 2020, at a CAGR of 50.6% during 2021-2026. Looking at the recent happenings, there is a high possibility of the market growing even faster.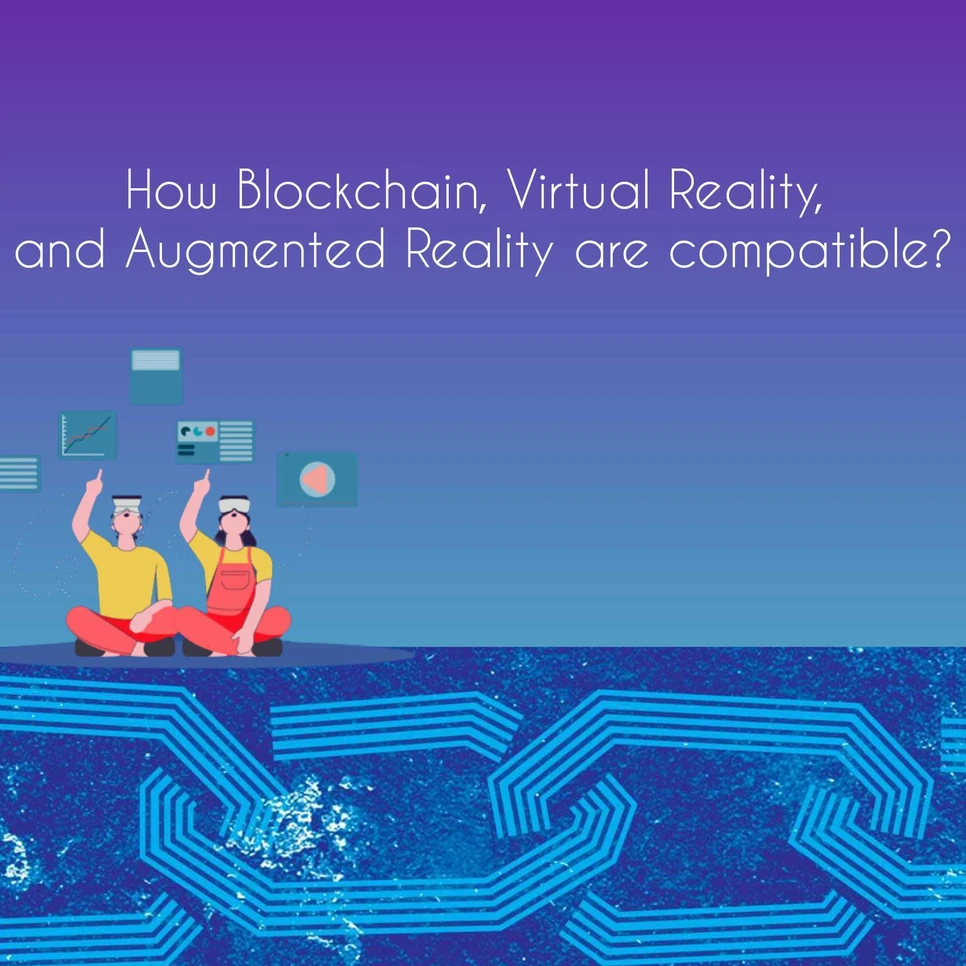 Due to the recent commotion caused by covid-19 and the quarantines, augmented reality and virtual reality have experienced quite a bloom. New experiences are crucial during these desperate times, and these immersive technologies provide just that. Users can peacefully explore new places and worlds without fear of the virus.
Other significant technologies bloomed during the past few years, along with these immersive techs. One of which is Blockchain technology and cryptocurrencies. Since its collapse in 2018, the industry has recovered and is more potent than ever. So it is pretty common to combine these two mighty techs and get the best out of both worlds. There are numerous use cases available for this coalition. Here are few of the use cases
Monetization of AR/VR games
Augmented reality and virtual reality are very well established in the gaming industry. According to the recent survey, it is said that the majority of the gamers are not only willing to purchase the games but also the in-game assets. In 2020, global gaming audiences spent approximately 54 billion U.S. dollars on additional in-game content. In 2025, the market value of in-game purchases will surpass 74.4 billion U.S. dollars.
Pokémon Go, the best example of an AR game, was downloaded more than 500 million times in the two months following the launch and generated revenues of $470 million in just 82 days. To put the relevance of Blockchain and augmented reality together, consider the following. First, consider a world where every other Pokémon you capture is truly unique, with its own set of abilities and attributes. This results in a completely new and different dynamic.
Fans are suddenly hunting and selling Pokémon that are extremely rare – and might be sold or traded for substantial quantities of money. Blockchain technology, which allows users to verify the legitimacy of the digital asset being sold, is central to this paradigm. And this will have an impact on how AR apps are created and transformed into viable businesses.
CryptoCarz is a blockchain-based game in development. Blockchain is used to allow users to buy, customize, and race virtual sports vehicles. Users can purchase specific kits and tweaks within the game that turn each automobile into a "non-fungible token" or a digital asset that is unique, indivisible, and valuable. As a result, the car becomes both a way of increasing the chances of winning races and a collecting item. Additionally, the game uses virtual reality to allow players to compete against one another and explore their cars in an immersive virtual environment.
You might have come across this situation where you are shopping online and want a better look at the items before committing to them. But most of the conventional online stores have a display of their products in 2D, which is relatively inconvenient. You can grab the attention of a small number of users by incorporating images and detailed product descriptions. But incorporating VR/AR in displaying your products can increase user engagement to a greater extent. In this context, Blockchain has been used to buy and sell products digitally.
Cappasity, for example, is a platform that allows users to produce 3D/360 product images that can be readily incorporated into online retailers' websites, mobile apps, and AR/VR applications. The platform includes 3D scanner software that allows users to create 3D images of products to enable interactive in-store browsing experiences. In addition, blockchain-based tokens can be used to exchange generated images. Cappasity also uses Blockchain to store product information and authorship to protect customers from copyright infringements and illicit redistribution.
Creative design and the arts are two new application sectors for VR and AR that attract a lot of attention due to the unique interaction possibilities afforded to experts, artists, and customers/end-users. For example, in the last few years, several digital artworks have been created by various artists, including both VR experiences like Christian Lemmerz's "La Apparizione" (available for $100,000) and Paul McCarthy's "C.S.S.C. Coach Stage Stage Coach Experiment Mary and Eve" (priced around $300,000), as well as AR content like Marina Abramovic's "The Life" sculpture (priced around $775,000).
As these works began to be displayed in museums and art galleries, it became necessary to establish measures to secure them from legitimate threats such as hacking or theft, the creation and dissemination of copies, copyright infringement, and so on. Blockchain technology appears to be an immediate response to the above needs, as it provides tamper-proof security (not just for VR/AR content). It is also feasible to verify whether the artwork is unique or replicated using Blockchain, which eliminates the potential of trading stolen digital artworks. Ownership is also simple to manage.
It's worth noting that VR and AR are frequently included in Blockchain-based solutions as enabling technologies capable of improving how people engage with digital material (through gaze, gestures, and other natural interfaces). For example, to build new or enhance existing experiences (virtual stores, immersive events, etc.). In addition, in many cases, psychological impacts connected to how users interact with such content in interactive, 3D settings (for example, for education and training reasons) are used to improve the experience's effectiveness.